Especialidades Médicas Madero
Especialidades Medicas Madero (Madero Medical Specialties) has a group of expert specialty medical doctors, who provide a wide range of medical necessities with a strategic health management.
We are by your side to attend your wellness, with a constant follow-up during each stage of your life.
Our experience allows us to know which needs are required for all your family, since newborns, adults and elderly people.
We are known for having a fast and polite service; respecting, taking care and offering quality care with a touch of human warmth.
Especialidades Madero's mission is to promote high-quality human medical care to keep our patients healthy and meet the needs of the community at local, national and international levels.
Provide a comprehensive health system with high specialty, to offer our patients a healthier life and thus be the specialty clinic of excellence in Baja California.
Integrity
Delivery
Respect
Passion
Excellence
Pride
Responsibility
Teamwork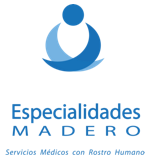 Av. Francisco I. Madero No. 665
Col. Primera Sección
CP 21100 Mexicali.
Open 24 hours and the 7 days of the week
Taxi service from the border line to the clinic and vice versa.
Delivery of Medical Line Passes to USA Patients.